What Snoo!
Vol. XI, No. 1
a very occasional newsletter and email update from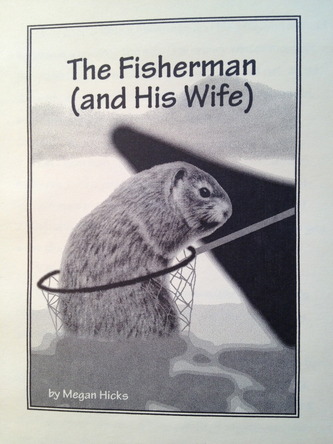 I regret to say that this year my Groundhog Day mailing will be purely electronic — except for the luddites I love and don't want to lose contact with. Who knows? Maybe next year I'll be able to swing both hard copy and postage; and if I'm really blessed, the Muse and I will mud-wrestle a new story into existence.
Til then, I hope you enjoy the lightly edited redux of…
The Fisherman (and His Wife)
by Megan Hicks
(a.k.a. Sue Cherselph)
Once upon a time a fisherman and his wife lived a life of squalor in a hovel beside the sea.  One dreary winter morning the fisherman set out in his boat and cast his net, as he did every morning.  But instead of pulling in nothing but seaweed, as he did every morning, on this day he netted a Groundhog. 
 "Oh, fisherman," said the Groundhog.  "Please, do not harm me, for as you can see, I am an enchanted groundhog.  Release me, and I will impart to you the secrets of wealth and material success, for I can see by the rags you wear that you are a man of but paltry substance."
 "Cool!" said the fisherman. 
 He untangled the net from around the Groundhog's body and threw the creature back into the waves from whence she had come. 
 The Groundhog treaded water for a minute to regain her bearings, and the fisherman said, "So … impart.  I tell ya what.  We don't want much, the wife and I.  Just a decent cottage and a cow and a little patch of vegetables and maybe a low mileage minivan.  And … enough in the bank so we'll have a modest but steady income.  Nothing fancy.  Nothing grandiose."
"Right," said the groundhog.  "That shouldn't be too hard.  You already have the beach front property, which is the same as sitting on a gold mine.  So clean up the trash, slap a coat of paint on the hovel, and list it with the local Remax office.  Oh, and I strongly suggest you mend your nets.  They're full of holes."
 "Whoa!" said the fisherman.  "I've heard this story before, and that's not the way it goes.  The fisherman goes home and finds everything just the way he asked for it.  Free.  Gratis.  None of this litter control and property maintenance folderol.  I mean, this is a fairy tale, right?  We're dealing with magic, right?"
 "We are," said the groundhog.  "To a point.  But you didn't catch The Flounder of the Soft Touch.  It's his day off.  Count your blessings.  You could have caught The Little Mermaid. That girl is a whiner. An emotional black hole. You could have pulled up Davy Jones or Leviathan. That's always fatal. Instead, you netted me! The Groundhog of Common Sense."
 "Whoop-de-doo," said the fisherman.  "So for all my efforts and compassion, all I get is more hard work.  What kind of fairy tale is this?  Where's the magic?"
"The magic!" sputtered the Groundhog.  "The magic?  You don't find yourself the least bit astonished to be talking to a groundhog?  Look, buster, I worked my tail off learning the intracacies of human speech.  And if that's not enough, I, a groundhog, a mammal — fur, four legs, no gills — am living in the sea.  What?  You want dazzle?  Go see a Spielberg movie.  You — you lazy, ungrateful, unimaginative bum — have seen more enchantment in the last five minutes than most people see in their whole lives.  Where's the magic!?  Under your nose, bimbo."
 And with that, the Groundhog flipped the stub of her tail, and swam away.
 The fisherman rowed to shore and trudged up the beach to the hovel, where his wife stood over a meager fire, stirring gruel for their supper.
 "Nothing again today, huh?" she said by way of greeting.
 "Nah," her husband replied.  "Fishing's lousy." 
 His wife served up the gruel in two chipped bowls.  Before they began to eat, they held hands across the table, bowed their heads, and said in unison, "Life sucks."
The Groundhog of Common Sense swam down to her Burrow Beneath the Waves, where her good friend The Flounder of the Soft Touch had dinner waiting.
 "How'd it go?" asked the Flounder.  "Did your story end any better than mine?"
 The Groundhog shook her head.  "Nope.  It gets harder and harder to amaze them.  They still end up right where they started.  This time it was his fault.  I guess the silver lining is that I didn't have to work half as hard as you did to land them back at square one."
 They ate in companionable silence for a few minutes. 
 Then the Flounder said, "By the way, I'll be late tomorrow.  My agent called.  I got the M. C. Escher promo spot."
 "Super!" said the Groundhog.  "I'll be asleep by the time you get home.  I have my annual Punxsutawney gig, crack of dawn, day after tomorrow."
 "Break a leg," said the Flounder.
 "Back atcha," said the Groundhog.
 They toasted each other with what was left of their iced tea, polished off a lemon tart, and toddled off to bed.
copyright 1997, Megan Hicks. All rights reserved.
Near as I can figure, I first sent this story out in 1997 or 1998. The cover of the snailmail edition was illustrated by my son, Toby Sharp. This one is by Paula Raudenbush. It graces both the cover of my CD "Groundhogs Meet Grimm" and our little limited edition of the first five stories (which one of my cats christened, ruining all but about a dozen of the remaining signed and numbered copies, making the remaining copies exceedingly rare. Collectors' items. Possible heirlooms if either Paula or I ever make the big time.
---
Slam Dunk!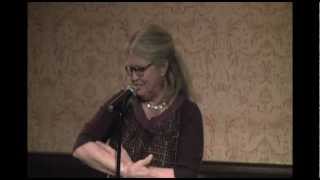 Jack and I have become regulars at the First Person Arts story slams. They've been doing this slam thing for thirteen years now, and they run a great show. I'm amazed at the consistent turnout of people way younger than we are who come out to tell and to hear and hang out and visit. They do two monthly shows — one at World Cafe and one at a little club called L'Etage, which rests above a creperie from whence you can order a smoked trout crepe that'll make you swoon.
After a couple of months watching, I finally screwed up my courage (slamming isn't the same as concert performance, and in some ways it's even more intimidating than storytime for toddlers) and put my name in the bucket to tell my version of the story about meeting my baby sister at the airport when a plane from South Korea brought her and about 40 other little kids to the U.S. I won the coveted Golden Ticket that night, which allows me to enter the Grand Slam later on in the spring, and whoever wins the Grand Slam wins…
bragging rights for a year
. Here's a link to my story on the theme "Gifts and Giving"
________________________________________________________________
13th Annual Kansas City Celebration of Storytelling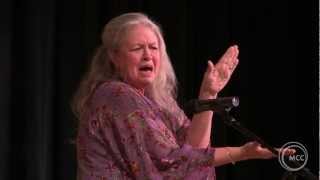 I was there! It was fun. And check it out: videos. Well-lit, 2 cameras, good sound. Never mind that I totally muffed the punchline on the fairy tale…
"Occupied" – my gothic tale about a haunted porta-potty.
---
So here's what's coming up…that I know of…so far…
On Saturday, actual Groundhog Day, I will be performing my fractured fairy tales at the Folklore Society of Greater Washington's Mid-Winter Festival. They hold the event at Takoma Park Middle School, 7611 Piney Branch Road, Takoma Park, Maryland. There's non-stop storytelling in Room 122 from 11:30 to 6:00 with Tim Livengood, Margaret Chatham, Gary Lloyd, Geraldine Buckley, Jennifer Hine, the Twinbrook Tellers, and moi. I'm on at 12:30. Y'all come!
And then I'm flying to Nashville and catching a Groome Shuttle to Chattanooga so somebody can pick me up and take me to Cleveland, Tennessee for the Ocoee Storytelling Festival. Wednesday, Thursday and Friday, I'll be visiting a bunch of schools. Friday evening at 7:00 there will be a family concert. And Saturday morning I'll be coaching. Which I'd never have had the temerity to suggest to Tennessee storytellers; but they asked me. 
Middletown Free Library — Wednesday, Feb. 20, 6:30 p.m. — Origami storytelling magic show. 21 North Pennell Road — Lima PA. It's free. Call to register: 610.566-7828.
Weber State University, Ogden UT — I'll be joining Kevin Cordi, Beth Horner, and David Novak for three days of stories and workshops at the 17th WSU Storytelling Festival. You can find out more about it right here.
Geraldine Buckley and I are trying to organize a house concert here in Media, PA during one of the weekends in the middle of March. Very soon now, we'll be zeroing in on a firm date, and when that happens, I will send an e-blast to everybody I know within reasonable commuting distance. 
St. Louis Storytelling Festival — May 1-4. This one's the 34th Annual.
As well as…
…putting together some dates for a trip to Virginia in March. I'll already be in the area, so you can save big on travel expenses and join other schools in your district or libraries in your region for block booking discounts. I'm working with one school librarian on something I've never done before, but it sounds fascinating — it's like closed circuit TV and Skype: I perform live in one location and simultaneously it's being broadcast to audiences in other schools in the network, whom I can see because the cameras go both ways, making Q&A and other interactions possible. Welcome to the budget-cutting edge. I'm curious to see how it works.
Visit my 
website
 to find out more about my programs for all ages and every imaginable slice of demographic pie.
---
Bloggage
Stuff I wonder about; stuff I remember; stuff that smacks me upside the head.
Mary Grace Ketner and I tag team this discussion about matters pertaining to fairy tales.
Webbage
---
Workshop Work – 
This is sort of a post script
My new long piece, which I'm calling "Thomas the Rhymer," is just about ready for prime time. If you know of a hospice support group that would like some free storytelling about saying goodbye to a loved one who insists upon dying on her own terms, about grief smacking you upside the head one moment and bringing you comfort the next — give me a call. It's a good story. I'd like to launch it.
---
Happy Groundhog Day! — It's downhill from here to the equinox.

---